AUL Rollover Center
Recently changed employers or retiring?



Wondering what to do with your employer-sponsored retirement plan? It's easy to move your retirement plan proceeds to an AUL IRA. Our service representatives (1-800-348-6229, option #1) can simplify the rollover process by completing the necessary forms. You'll just need to review and sign. For help with this important decision, click here to access AUL's rollover guide. The rollover guide contains valuable information about your options, including the benefits and limitations of each choice.


---



Enjoy the benefits of having all of your retirement money in one account!



Recent tax law changes have made consolidating your retirement assets easier than ever.
If you're ready to initiate a rollover to your new employer plan with AUL, just follow the steps below.
Getting started is simple!

If you've recently changed employers:


| | |
| --- | --- |
| Step 1: | Contact your new employer to determine if you can roll your existing retirement savings account into your new plan. |
| Step 2: | Check with your prior carrier for any additional paperwork they require to complete the transfer. |
| Step 3: | Complete the Direct Rollover Authorization Letter and mail the form to AUL at the address provided on the form. |

For questions on the transfer process, please contact us at 1-800-348-6229, option #2.

For all rollovers:

It's important to realize that federal regulations governing rollovers may limit your ability to roll assets from one plan to another. Consult the table below to find out whether the rollover you're considering is permitted.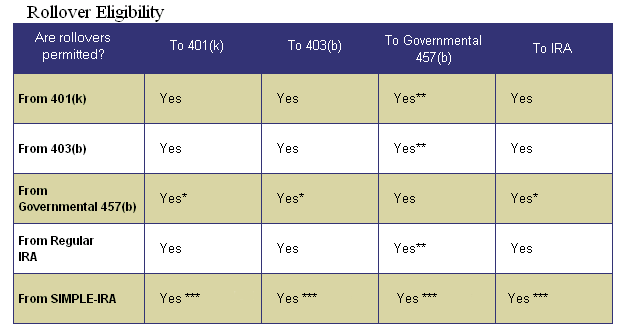 *
Governmental 457(b) plan contributions are not subject to an early distribution penalty; however if these
contributions are rolled over to a 401(k), 403(b) or IRA, the premature distribution penalty will apply to
them. Consult your tax advisor before rolling 457 assets into a 401(k), 403(b) or IRA.
**
Rollover funds must be accounted for separately to apply early distribution rules to non-457 funds.
***
In order for your SIMPLE IRA to be eligible for rollover, you must have been participating in your employer's SIMPLE salary reduction arrangement for more than two years.

Please check with your employer to determine if your plan accepts rollovers.